'Zou jij nog mee willen met de persreis voor Zuid-Afrika? Ja, ik weet dat het héél kortdag is, maar er is een plaatsje vrijgekomen. Kun je mee? Vandaag worden de tickets geboekt, dus je moet nu eigenlijk wel beslissen'. Zo ging het telefoongesprek dat ik ongeveer een week geleden voerde. Ik stamelde wat, vroeg nog wat zinloze dingen, bedacht me dat ik misschien eerst even met mijn man moest overleggen, haalde diep adem en zei: zet mij maar op de lijst. Ik had nog anderhalve week om een reis naar Zuid-Afrika voor te bereiden.
'So, are you still interested in going with the presstrip to South-Africa? Yes,I know it's extremely shirt notice,, but a spot opened up and you're welcome to come along. So can you? The tickets are booked today, So you have to decide now'. That's how a phone conversation went a week or what ago. I stammered something, asked some unimportant questions, asked myself if I shouldn't be calling my husband about this and see what he thought, took a deep breath and said: put me on the list. And there I was with 1,5 week to prepare for a trip to South-Africa.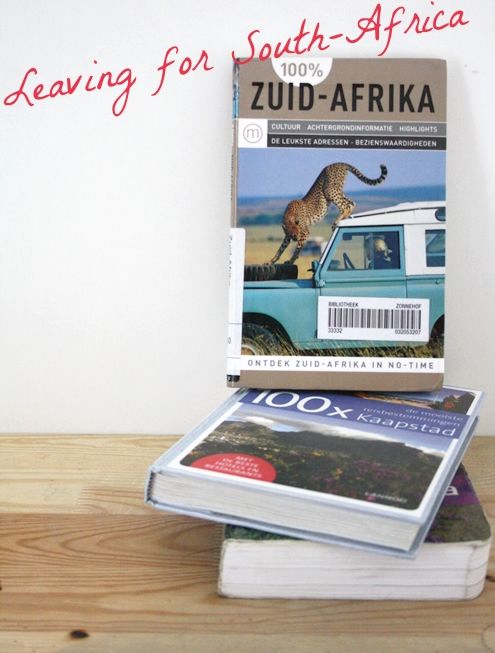 Dus mocht je je afvragen wat ik zo de afgelopen paar weken deed, dan was dat: in eerste instantie in paniek rondjes rennen, mijn man bellen die zei: joh, moet je doen, me afvragen wat ik in vredesnaam allemaal wilde en kon gaan zien (geen standaard persreis namelijk, ik krijg alle vrijheid!) in 3 dagen Johannesburg, Durban en Cape Town (zo weinig tijd is dan wel weer typisch persreis) en me afvragen of ik het werk dat ik nog had liggen wel zou kunnen afkrijgen. Resultaat: werkdagen van veel te veel uren en 's nachts in bed lijstjes maken.
Maar eerlijk is eerlijk: hier doe ik het ook wel voor. Toen ik nog voor een baas werkte (en dat zeg ik altijd terwijl ik een héél vies gezicht trek), had ik altijd het idee dat ik veel moest laten schieten, dat ik veel kansen moest laten lopen. Eerst dacht ik: het gras is altijd groener bij de buren, maar dat blijkt niet waar te zijn. Nu ik voor mezelf werk, kan er werkelijk gewoon veel meer. En ja, ik regeer ook wel bij een beetje chaos!
So if you were wondering what I've been doing these last few weeks. Well firstly, I panicked, then I called my husband who said I should totally go for it, wonder what on earth I could squeeze into 3 days visits of Johannesburg, Durban and Capetown (it's nice to have so much freedom on a press trip for once, but unfortunately you're always pressed for time when on a press trip) and wonder if I'd be able to finish all my work in time. The result: workdays of far too many hours and making lists whilst laying in bed wide awake.
But honestly: this is what I live for. Couldn't do without the thrill. When I was still working at a firm (and yes, I always make a 'yuck' face when I say that) I always had the idea that I was missing out on things, that I didn't seize a lot of opportunities. At first I thought I was just imagining things. But seriously, since I'm my own boss there's so much more room, time and space for spontaneous decisions!
En toen was er nog het inpak-issue. Want ik vlieg via Heathrow. Ik weet niet of jullie weleens via dat vliegveld zijn gevlogen. Maar er raakt daar zoveel bagage kwijt, daar word je niet vrolijk van. En verloren bagage tijdens een persreis is geen optie (geen tijd om nieuwe dingen aan te schaffen!). Dus reis ik met handbagage. Over uitdagingen gesproken. Maar vandaag kwam ik, al oprollend, tot de conclusie dat er toch best veel in zo'n koffertje past.
And then there's the lugage issue. 'Cause I'm flying through Heathrow. Which basically means that you may as well leave your lugage at home as they always seem to lose it. Lost lugage when you're on a press trip is not a option as you don't have enough time to shop for new things. So I decided to trave with just hand lugage. Talk about a challenge! But today I found out that if you roll up your things nice and small, you can take quite a lot with you.
Het enige dat echt een gedoe is, wat mij betreft, zijn de vloeistoffen. Want ik moet nu eenmaal met contactlenzenvloeistof, zonnebrand en DEET reizen, dus dan is er nog net plaats voor een mini-shampoo, Labello, deo en mascara. Maar goed dat er niet al te veel foto's worden genomen van mij...
Tot over twee weken!
Benieuwd naar wat ik allemaal meemaak in Zuid-Afrika? Volg dan mijn
reisblog
via Bloglovin'! Als zal ik hier ook nog wel een update geven :-)
The only thing I could do without is that ban on liquids when you're traveling with hand lugage. Since I have to travel with contact solution, DEET and sunscreen, I can hardly fit in some shampoo, deodorant, mascara and lipgloss. Good thing no one will be taking my picture!
See you in two weeks!
If you'd like to read about my adventures in South-Africa, follow my travel blog via Bloglovin'. It's in Dutch, but if you use Chrome you can translate as you go. Though I'll give an update on here as well.